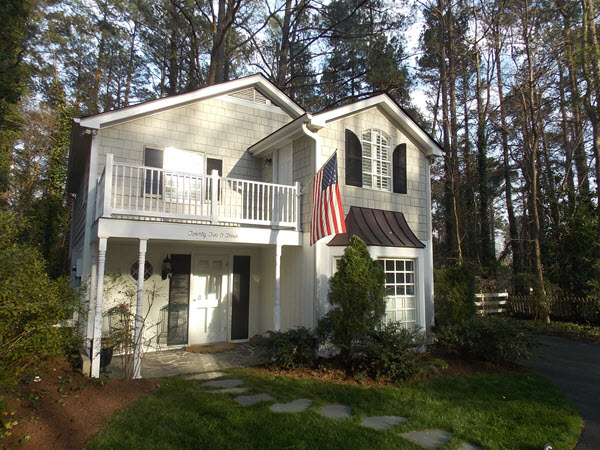 I am proud to offer this home for sale in the Durham market especially since I sold another home for them a few years ago and they have referred others to me.
The current price is $329,900.
Here's a little bit of history for this one. The original structure was built around 1900 and was a carriage house for a much larger home when Shoreham was just a stub off of University Drive. That home was demolished before World War II. Some of the original bricks from that home can be found in the neighborhood which is now known as Rockwood.  The structure remained a apartment over a garage for many years but in 2005 Durham designer Dan Addison purchased the house and turned it into what you see today. Long term Durhamites will recognize his distinctive style that is seen in several homes alone Hope Valley Road and in old Hope Valley.
The home was sold to the current owner in 2007 and he added and upgraded many of the systems in the home. A list of those upgrades can be seen here, but here are the basics.
Space
The cottage is approximately 1450 square feet, which does not include the enclosed porch off of the master bedroom. which does not have its own heat or air conditioning. However, the room is comfortable year round if the door to the bedroom is left open. The two bedrooms are upstairs along with two full baths along with a landing area with built-in book shelves, cabinetry and a small desk. There is also room for a comfortable chair and side table. This landing area also opens to the deck over the front entrance with great views of the landscaping at the front of the home.
Downstairs you have the living room, dining room, the kitchen, a half bath and a laundry room.
Location
If the the three most important things in real estate are "location, location and location" as is often claimed, this home surely ranks high. The home itself is set far back on the lot. There is very little back yard to care for and the surrounding area is wooded, providing a very private feel. Yet from the end of the driveway you are less than two blocks from the restaurant district that has developed around Nana's, long one of Durham's most cherished restaurants. There is also the Thai Cafe, The Boot, the Q-Shack, and  Nana Taco. Take James Street up a block to Chapel Hill Blvd and you have Happy China, Fosters, The Refectory, Guglhupf, Saltbox Seafood and, if you want to grab and run, a Subway, Biscuitville and a Hardees. Head in the other direction and in a little more than a mile you are in Downtown Durham with all it's restaurant and entertainment choices.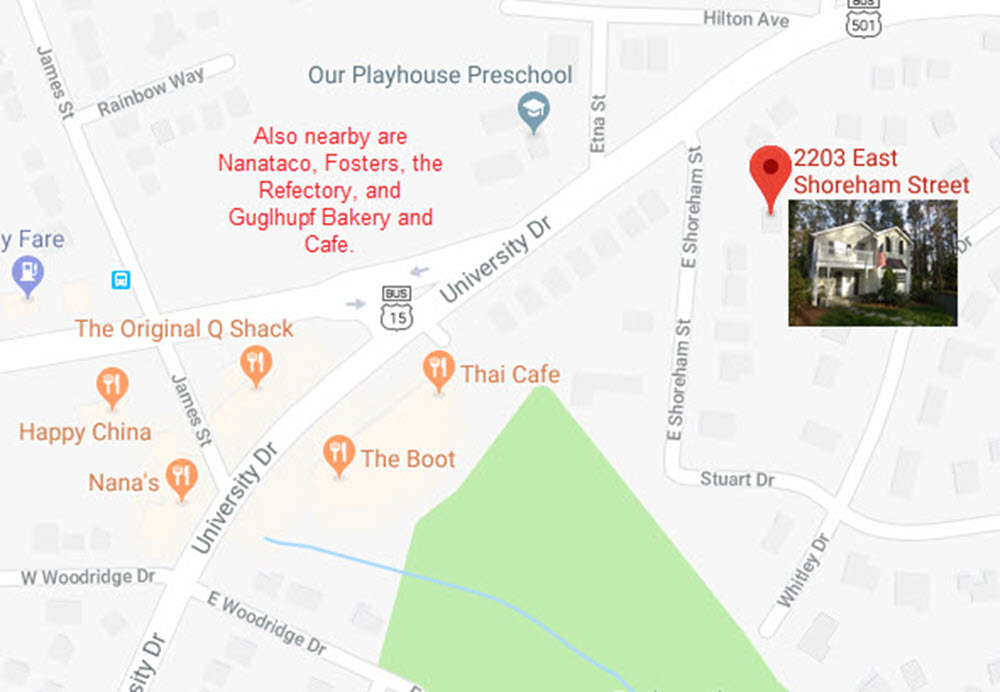 Downtown is also a major employment center as is Duke University and Hospital, the closest point of which is less than two miles away. South Square, South Point, Franklin St in Chapel Hill and even the Airport are 15 or 20 minutes away or less depending on traffic.
If you are familiar with Durham, you may know all this but if you're not, you can find a lot more information here.
Additional Features and Maintenance Regularly Done
In 2009 a Hybrid Heat Pump Dual Fuel (Electric and Gas). In extreme cold, gas takes over. The system is serviced twice a year by Comfort Engineering. The system includes a whole house filter and an Ultraviolet air cleaner in the air handler. The thermostat is a Honeywell Redlink Wireless that can be controlled remotely by an phone app.
The air ducts were cleaned in 2016
In 2009 an LG Front Load washing machine was installed (conveys)
In 2007 a Maytag dryer was installed (conveys)
In 2007 a Noritz Tankless Water Heater (gas) was installed. (capable of handling two showers, washing machine and dishes simultaneously.) This was serviced and descaled in 2017.
In 2012 the kitchen, dining room, downstairs bath, entryway and closet floors were redone in Apple River Canyon Oak 12mm laminate floors.
In 2008 the attic was insulated with closed cell spray foam.
In 2007 an automated irrigation system was installed – drip for shrubs, spray for lawn, 7 zones, wireless rain sensor. Backflow valves are checked annually by ACME plumbing.
In 2008 a Generac whole house standby, natural gas generator was installed and is rated at 14761 watts, starting 19731+/-9. This is serviced annually by BECO
In 2013 the Louvers were rescreened with bat valves by Critter Control.
In 2007 a Bathfitter shower was installed.
In 2013 Champion installed a sunroom/screened porch over the master bedroom deck and an outdoor stairwell for an upstairs exit.
In August of 2016 a Champion Roof System with a limited transferable warranty was installed.
In 2007 GutterGuardian Plus gutter guards were installed.
All toilets were retrofitted to be dual flush.
An annual full house plumbing inspection has been done by ACME Plumbing.
In 2007 a third of the driveway was replace. The driveway has had semiannual sealcoatings.
2008 a Pressure Reducing Valve was installed by ACME. This is in the green box near street.
A ITTI Concord 4 wireless alarm system was installed with 4 door and 4 window sensors. There are also 4 Arlo wireless cameras. This are serviced by Safe Home Security at 800-833-3211. The system can be controlled by a phone app.
Pictures
Here's are some pictures.  If you're interested in seeing the home give me a call at 919 819-6666 or email me at jay@jayzenner.com.