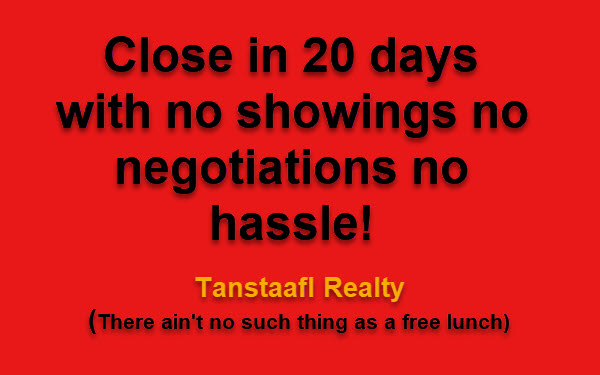 First, we noticed OpenDoor in this market and then several other companies jumped in with promises to buy your home with a quick close.  I, and many other agents I'm sure, have been asked whether these are legitimate enterprises and whether it's a good idea to consider.
In the meantime, we agents are all wondering whether this is a threat to our businesses which depend on aiding clients market their homes and earning a commission.  Maybe it is, and I'm biased, but I don't think these companies are an existential threat. However, they very well may alter the business.
I stumbled on a video the other day done by a prominent real estate agent in another city and she was trying to scare the heck out of anyone considering selling their homes to one of these companies saying that it was basically handing your hard-earned equity over to out-of-town investors and hedge fund managers. Whew!
First, this is not as new as it may seem to most of us. There have been investors that have specialized in acquiring and flipping this way for a long time operating primarily by going after owners who were in true distress and facing bankruptcies, foreclosures or other emergencies that required them to get out of the home or the loan as quickly as possible.
I got into the real estate business purchasing and flipping a townhome in Durham before I had any idea of what I was doing (or of becoming a real estate agent.)  I learned the hard way that the key to the business is getting the flip home at a very good price and then watching your costs closely before reselling. I lost money on that first one but did another in the same community and did very well on it because, instead of doing a major renovation, I just fixed what was broken and redecorated.
When OpenDoor appeared on the scene, it seemed to me that maybe they had a good business model.  I predicted in my book, Fun To Sell Easy To Buy, that the cost of a real estate transaction would eventually come down when some large entity figured out how to consolidate all the moving parts in one place and increase efficiency. Most residential real estate transactions involve several independent parties including two agents, a mortgage broker, an inspector, maybe several contractors, at least one lawyer, an appraiser, etc.  Maybe a well-financed brokerage like OpenDoor will be that entity.
However, until that's proven, here's my advice if you are considering the option companies like OpenDoor provide.
First, remember they are in business to make as much money as they can. They paint a horror story of disruption, endless negotiation and uncertainty when you are trying to make a major change in your life. It's all to get you to bite the hook. Never forget that.
Second, know your numbers. Start by getting a market analysis by any Realtor who is equipped to do it. Today in our market, agents have tools that can give you the potential range in which your home will sell very quickly and with very good accuracy. This is a case where "big data" works for you. He or she can then adjust for various factors, many of which you can help control such as condition of the house, ease of showing the home and where you price within the range.
Compare this with the net numbers that you get from the "instant" cash you will get from the competitors like OpenDoor.
Make sure that you are aware of all closing costs and negotiation points in their offers. One source that was involved in one of these transactions shared with me that the total costs were about ten percent of the price that was offered which is about twice the standard commission you could get from a conventional Realtor. On a house worth $300,000 that could cost and extra $15,000.
The final question you must ask yourself is whether the quick close is worth it when it can actually be fun to sell.  I can imagine that in some cases it will be, but not in most, especially those than engage competent listing agents.
Those caveats apply in any market situation, but the other consideration in today's Durham market is that if you have a nice house and don't overprice it, it will sell.  Here in mid-February I reviewed sales from the beginning of 2018 until the present in one of Durham's largest and most popular subdivisions, Hope Valley Farms.  From January 1, 2018 until February 10, 2019 there have been 130 closed sales that went through the MLS.  The average days on the market was 12 and the median was 4. The median is more significant in this case because there were several outliers in the average, a couple even over 100 days.  Just those two raise the average a couple of points by themselves.  That is amazing.  As well, both the average and median sales prices were a tiny fraction more than the asking prices which means there are a lot of multiple offer situations.  There were two…that's right, just two, active listings at the same time and 9 under contract and pending close when I pulled the data on 2/10.
So, if you were living in Hope Valley Farms in a nice home, would you give up $15,000 for a quicker sale?