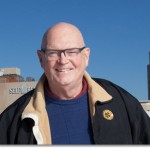 Really, not all things Durham are cool.
An organization that I helped launch, Downtown Durham Inc. a few years ago adopted the slogan "Find your Cool." There is a bit of irony in all this because it really isn't cool to describe things as "cool" anymore.
In spite of that it does reflect that, somehow, after a long slow decline in Downtown, a revival that started slow, picked up steam and now Durham has become…well…cool. There are lots of great restaurants, music venues, the Durham Bulls, and the Performing Arts Center.  Art flourishes. Downtown has become a magnet for bright, ambitious entrepreneurial types.  Duke Basketball is better than ever and Duke Football has finally had a few good years. Raleigh is jealous and Chapel Hill doesn't seem so shiny.
On October 4, 1984 I started a job at the now disappeared Central Carolina Bank which means that as I write this I have been a Durham Citizen for 38 years. I've seen a lot of ups and downs but to tell you the truth, I liked Durham in 1984 and I like it now. I'm very happy that we're now recognized as cool but this has never been a bad place to live. Maybe because I'm not so cool myself, some things didn't bother me.
Even subtracting the cool, Durham today is still an excellent place to live. Since the cool things are well covered in other websites, my intention is to find and post things that might be more mundane but still important to the life of the city and do so in an interesting way. That might include pointing to some of those websites.
Occasionally I'll write about residential real estate.  I've been a Realtor for over 15 years but take a little different approach to it. I've never been what the industry calls a "top producer" and I've never worked for a large company and have never wanted to. In fact at least half my career I was a sole proprietor. I like the independence. I don't need to support anyone so I don't need to hustle for business (which I wasn't very good at when I tried anyway.) No one but me can ever pressure me to do more business. I'd rather never be working with more than one or two clients. This allows me to smell the roses and focus on the clients that I do have. 
One of the things I hope to accomplish here is to make people moving to our neighborhoods feel more comfortable and reassure them that Durham isn't just about being cool. It's about raising and educating kids, it's about getting great medical care, it's about good governance, it's about taking care of our own and helping others.
Although OrdinaryDurham.com has existed for several years as my personal blog, I'm converted to a newsletter format, that will be curated. I hope you will sign up.